Measurement of the excess leg length
Reduction of the excess leg length  - excess of weld metal on the front side of the fillet weld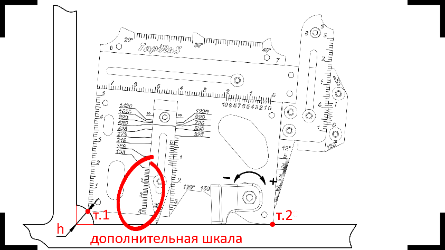 positioning and measurement taking 
Adjust the welding gauge so that it makes contact with the inspected object at two points as illustrated by the figure aside: 
- т. 1,is located on the base metal of one of the welded elements; 
- т. 2, corresponding to the point of greatest convexity or concavity of the fillet weld 
Having previously rearranged the pivots in the groove located on the right side of the welding gauge, lower them until they come into contact with the inspected object. 
Lock the pivots in this position and maintain it as you carry out this procedure. 
Lower the fillet arm 2 until it makes contact with the inspected object, take the readings of the desired value h from the additional scale mounted